This year's Hackathon for Health, Assisted Living, Social Care and Communities  (HALE) proved to be a great success with over 35 enthusiastic developers, designers and experts from DS-Cubed and volunteers coming together to work on three proposals for Health and Assisted Living. Participants arrived for an early start and it was not long before the DS-Cubed labs were buzzing with activity and discussions.
Three proposals highly beneficial to the local community were put forward for this occasion, including:
– FRAT, Falls Risk Assessment Tool proposed by Leicestershire County Council
– ARCS, Angular Rotation Communication proposed by Dr Gareth Robinson
– Skin Cancer Open Data Platform and accompanying Skin Monitoring App developed by DS-Cubed
The proposals were outlined during short presentations by the relevant service providers. During the morning session, teams of developers and designers sat down with Dr. Gareth Robinson and paramedic David Slater to discuss details of what they were looking to achieve. Attendees then split into teams to work on projects where their skills fit best. Each group was led by one or more developers from DS-Cubed to help and guide the teams on technical issues.
Over the course of the two-day event, the Hackathon team worked collaboratively to form working relationships, establish a clear end goal and overcome technical difficulties in a stimulating and thriving environment. As a result the Falls Risk Assessment Tool (FRAT) mobile app was successfully developed by the end of the first day, and the prototype of Angular Rotational Communication System (ARCS) was completed by the end of the Hackathon. The team also made a very good progress in developing a free Android app to integrate with the Skin Cancer Open Data Platform and solved some of the technical challenges during the event.
Falls Risk Assessment Tool (FRAT)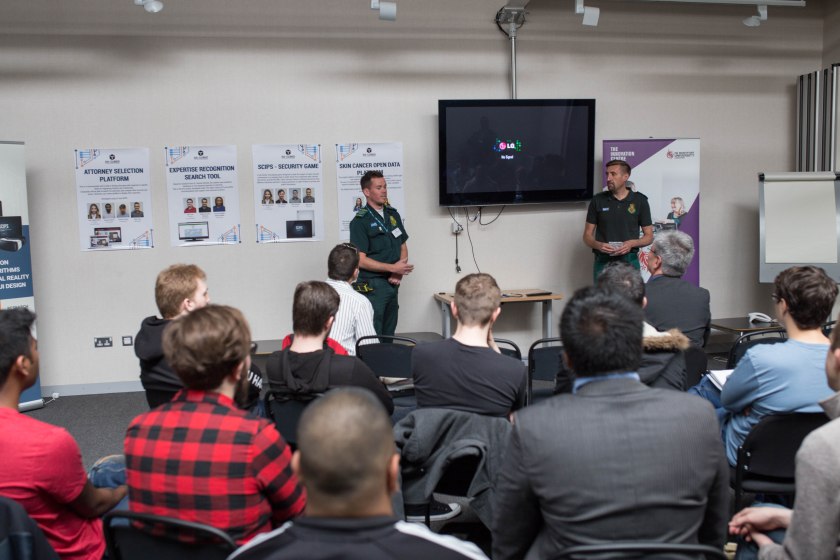 Falls represent one of the top five reasons for ambulance conveyance and admission to hospital for the over 65 age group across the region. In 2014, a paper-based FRAT was developed to improve the efficiency of assessing people who have fallen, prevention of future falls and reducing unnecessary conveyance to hospitals.The Hackathon team made FRAT into a digital application, reducing the amount of paperwork it would take to make an assessment and speeding up the communication of information to the right people. This app is designed for use on smartphones that are issued to paramedics, and aims to work with other apps or technologies currently being used such as tough books.
Proposer: Andrea Baker, Falls Programme Manager, Leicestershire County Council and David Slater and Thomas Hoz from East Midlands Ambulance services (EMAS) on behalf of all the Better Care Together, Leicester City, Leicestershire County and Rutland County Council areas
Developers: Liam Hackett, Vitor Augusto Andrioli, Matthew Simms
Project Coordinators: Kate Lowe, Samana Moosavi, Egle Scinglinskaite
Volunteer designers/developers/participants: 
Sukhwinder Singh, Ruibo Zhang, Rajatt Sodhi, Chris Collins.
Angular Rotational Communication System (ARCS)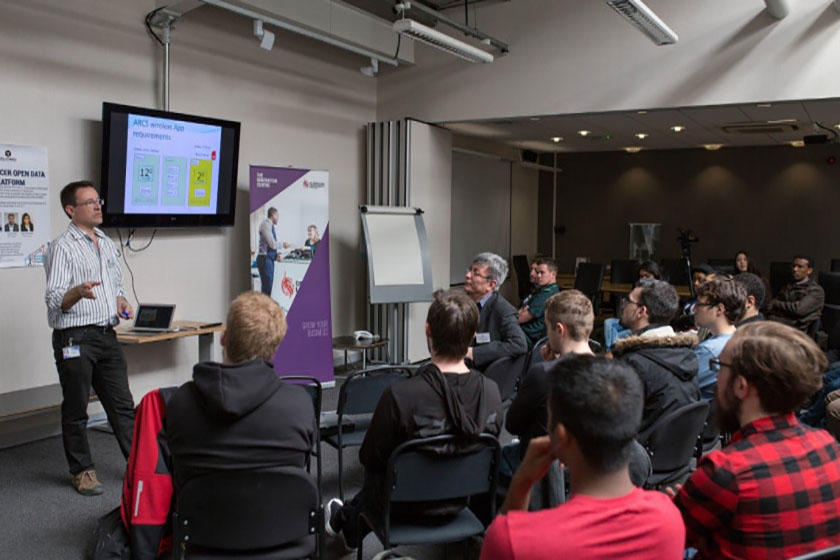 Taking an accurate X-ray of particular parts of the body, such as the knee or the cranium, currently involves a great deal of craft in order to achieve an accurately aligned image. This proposal looked at improving this process by using sensors to help correct the alignment of either the body part or the camera in order for an accurate X-ray image. By using light blue bean sensors, made by Punch Through, the Hackathon team helped to develop an Apple IOS app to display information in real time so that precise correction could be made for X-ray.
Proposer: Dr. Gareth Robinson (University Hospitals Leicester)
Developers: George Goodwin, Gotham Sahay, Dinis Firmino
Designer: Kien Tran
Volunteer designers/developers/participants: Sukhwinder Singh, Ruibo Zhang, Rajatt Sodhi, Chris Collins.
Extending Skin Cancer Open Data Platform (DermDB)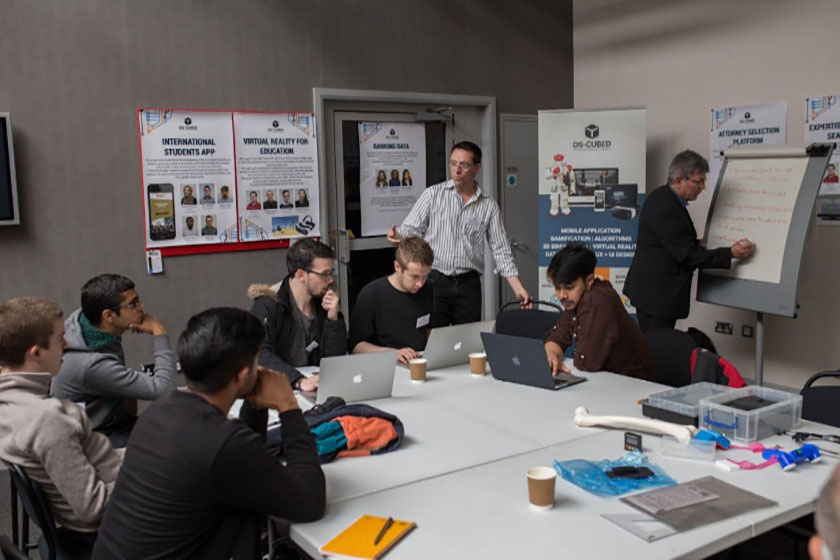 The skin cancer open data platform collects data on dermatological conditions from front-end sources such as mobile applications. One of the benefits of this data platform is that it will provide live, crowdsourced data collected from around the world, providing a wider cross section of data based on age, sex, geographical location, ethnicity and so on. This data will be freely available for researchers to access, and can potentially be used to create  open data platforms for other major medical fields.
During this Hackathon, development for a free Android skin monitoring mobile app also began, which will be fully compatible with the open data platform. This app, which will be made accessible for free, will allow users to upload and track anonymised annotated photos of their skin conditions with their prior consent.
Developers:Samuel Mills, Diego Marques, Santosh Manne, Ahmed Fareed, Mowlid Moallim
Project Coordinators: Kate Lowe
Research: Riya Chandrakar